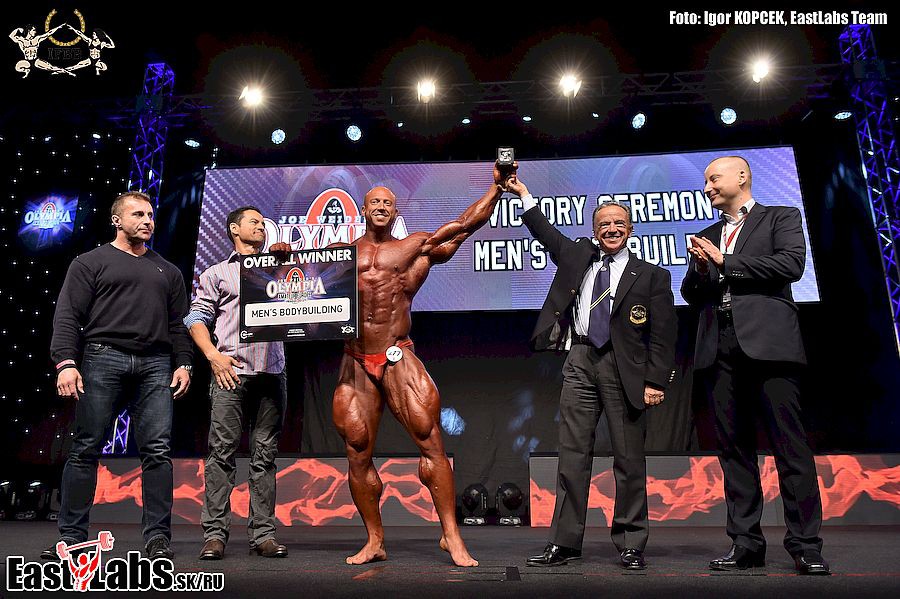 Croatian bodybuilding super heavyweight megastar Petar Klancir finally won his first prestigious IFBB international event and the right to turn pro. Klancir was not so fortunate in the recent year, finishing three times in the 2nd position: last year in Prague (lost to Roman Fritz), at the 2014 Arnold Europe (lost to Vitaly Fateev) and at the latest Arnold Europe (lost to Arkady Velichko). His overall win at the 2014 Balkan Championships didn't change the situation as this contest doesn't give the right to turn pro. But like in the proverb 'If at first you don't succeed, try, try again' and he tried. "Patience is a virtue", so his 4th try was successful.
Bikini fitness superfinal consisted of 5 champions from 5 categories and brought victory to the current European champion Oksana Brygidyr (Ukraine) who slightly won over the World Championships runner-up Adela Storzerova (Czech Republic).
The best among three Bodyfitness champions was 2014 European Championships overall winner and 2015 Arnold Europe winner Olena Chumakova (Ukraine), after a tough battle against the other Arnold Europe winner Doina Gorun (Italy).
Arnold Europe winner Anna Dudushkina (Russia) dominated Women's Fitness superfinal, ahead of Oksana Orobets (Ukraine) and Nikolett Szabo (Hungary).
The last superfinal was run in Men's Physique, where 3 categories winners were fighting for the overall title. The battle was very close, with European Championships bronze medal winner Francesco Montuori (Italy) at the top and Johannes Falke (Germany) and Endika Montiel (Spain) tied 11:11 in the 2nd and 3rd places.
Altogether, including last moment entries, 281 competitors representing 36 countries passed through the stage in the Prague's TipSport Arena, what is a new record of participation. Conveniently located in the center of Europe, the event has become more and more popular. The event was honored by the presence of the IFBB President Dr. Rafael Santonja, who flew from Madrid to watch the superfinals. Prior to the contest, IFBB Judges Committee Chairman Pawel Filleborn delivered seminar for judges. As usual, the sport part was run in conjunction with a big Expon Show. Next year the event will celebrate its first five-year anniversary.
CATEGORY BY CATEGORY REVIEW
MEN'S BODYBUILDING
Men's Bodybuilding up to 80 kg:
An unknown bodybuilder from Kosovo, Kushtrim Bajraktari, caused a sensation in the semifinals, taking the 1st position. Moreover, he continued his success in the second round but failed in the routine round, being over passed by German champion Tobias Gerblinger by 1 point. In the 3rd place the 2014 European Championships: silver medal winner Aleksei Denisov (Russia). Considered as a favorite, Alex Zuccaro from Italy, didn't come.
Men's Bodybuilding up to 90 kg:
Former European Championships Classic Bodybuilding overall winner Tomas Tabaciar (Slovakia), who in 2013 moved to extreme bodybuilding, got his first victory but after close battle against Josef Furin (Czech Republic) and not until the last round. Following his clear win in the semifinals, he unexpectedly lost the second round to Furin but winning the routine round he returned to the top. Latest Arnold Europe finalist Janos Csuhai (Hungary) moved up one place, to the 3rd position. Jakub Šubrt (Czech Republic) who placed 4th in Madrid, weighing 93,9 kg, now dropped his bodyweight below 90 kg but with no visible improvement, finishing in the 5th position.
Men's Bodybuilding up to 100 kg:
New face from Italy, Giampietro Dehioudu, was probably the biggest surprise in bodybuilding, winning all rounds with perfect scores and leaving behind his team-mate Gilberto Ciriello – 2014 Arnold Europe masters 40-49 heavyweight champion. The other top European master bodybuilder Emmanouil Tzinidis (Greece) in the 3rd position, while better known bodybuilders: Tomasz Lech (Poland) and Michal Sitter (Czech Republic) in the 8th and 9th positions this time.
Men's Bodybuilding over 100 kg:
"Always second" Petar Klancir (Croatia) has broken his run of "bad" luck and finally won the super heavyweight category, what opened to him the doors to bigger success in the overall. Klancir got perfect scores in all rounds. 2013 Arnold Europe 3rd place winner Ivan Vodyanov (Russia) moved from 100 kg class to the super heavyweight category and placed clearly 2nd, ahead of Marek Szostak (Germany) who advanced from 7th position in Madrid to the 3rd place in Prague.
WOMEN'S BIKINI-FITNESS
Bikini-Fitness up to 163 cm
The biggest category among all 5 Bikini-Fitness classes, with 33 competitors on the stage. Some well-known names: Iveta Kuglerova (Slovakia) and Nira Mählmann (Germany) failed to enter the semifinals. World Championships finalist Svitlana Sydorenko (Ukraine) just outside the finals in the 7th place. European champion and Arnold Europe runner up Rodika Bodrug (Sweden) in 4th position, Virag Kiss (Hungary) in 6th place. Maybe a five-day break from Arnold Europe were not enough to recover for them. But it was enough for Tetiana Prykhodko (Ukraine) to improve and move up from 8th place in Madrid to 3rd position in Prague. At the top two "fresh" girls from Slovakia: Lubica Beresova and Sabina Plevakova, who didn't compete in Madrid this time. Sensational loss of "unbeatable" Plevakova 7:11 in both rounds is a big surprise. For Beresova it was her second international event after the European Championships in Santa Susana, where she was a runner-up in 163 cm class. Plevakova was a 160 cm class winner there but she is also 2015 Arnold USA champion.
Bikini-Fitness up to 166 cm
Top three girls from the latest Arnold Europe in Madrid: Ekaterina Krasavina (Russia), Aleksandra Mikucka (Latvia) and Natalia Rahushenko (Ukraine) but… someone else took the title: Denisa Hargasova (Slovakia). European champion, Hargasova, had not her the best appearance in Madrid (11th place) and strongly wanted to return to the top. Winner from Madrid, Krasavina, was a leader after the semifinals, with Hargasova and her team-mate Martina Sedlarova tied 13:13 in the 2nd place. But in the finals Krasavina dropped to the 3rd place, behind Hargasova and Mikucka. This is the best season for Mikucka: the next 2nd place in so demanding line-up shows her big potentials. Rahushenko in 4th position, Sedlarova in 5th, with Greek star Apostolia Lyviaki closing the list of finalist but she should be happy, after her less successful performance in Madrid (out of the top 15).
Bikini-Fitness up to 169 cm
Also sensational changes in the finals compared to the semifinal order. Arnold Europe megastar and overall winner Diana Volkova (Russia) was a leader after the semifinals and sure candidate for the final victory but… she unexpectedly dropped to the 2nd place in the finals, being over passed by the current European champion Oksana Brygidyr (Ukraine). There was the next big player in this combat for medals: Diana Salamon (Hungary) – 2nd after the semifinals and 3rd at the end. 4th and 6th placed to newcomers at the international level: Ewelina Szala (Poland) and Gerda Makunaite (Norway). Between them experienced master competitor Andrea Lackner (Austria).
Bikini-Fitness up to 172 cm
The next unsuccessful appearance of the World Championships runner-up Kristina Nuut (11th place). The other 2014 World Championships finalist Kathrin Pfefferkorn (Weishaupt) also out of the finals (8th position). Comeback of the first Olympia Europe runner-up Martina Abukhlal (Switzerland) not impressive (14th place). At the top Arnold Europe 3rd place winner Veronika Gulasova (Slovakia) but after the semifinals her less-known team-mate Saskia Cakoci (14th place in Santa Susanna) was a leader. Then dropped to the 2nd position, with Jana Slivova (Czech Republic) moving up to the 3rd place (after her 7th position in Madrid). Karen Thompson (Iceland) moved up but one place only to the 4th position.
Bikini-Fitness over 172 cm
Great rivalry of four IFBB megastars and top four from Arnold Europe: world champion Olga Putrova and runner-up Olivia Pohankova (Slovakia), European Championships overall winner Kseniia Sheveleva (Russia) and runner-up Adéla Storzerová (Czech Republic). Continuously improving, Storzerová won her first international competition and over so demanding pool of other champions. Putrova in 2nd place, being strongly pressed by Sheveleva (they were tied 13:13 in the finals). Pohankova in 4th position in both rounds. They display so equal body qualities that they may change places from contest to contest, depending on the body condition of the day.
WOMEN'S BODYFITNESS
Bodyfitness up to 163 cm
Leading after the semifinals, Szandra Hidasi (Hungary) had a great chance to win her first international competition but dropped to the 2nd place, being over passed in the finals by Doina Gorun (Italy). Former European junior champion and Arnold Europe overall winner, Gorun, has become a favorite of the upcoming World Championships in Budapest. But this time Gorun didn't win the overall battle, having to accept Olena Chumakova's victory (few days earlier, in Madrid, Chumakova was 4th in overall).
Former Women's Physique champion Zsuzsanna Tirpák (Hungary) in the 3rd place once again, ahead of World Championships bronze medal winner Margita Zámolová (Czech Republic) and Roberta Visintainer (Italy).
Bodyfitness up to 168 cm
Arnold Europe winner Olena Chumakova (Ukraine) won this class but after a very tough battle (only one-point difference in the semifinals) against someone new: Renata Benigno-Wisskirchen (Germany), native Brazilian, who works in Germany now and won the overall title at the recent German Nationals. Then Nadia Isabella Pettersen (Norway), who moved-up two places compared to her Arnold Europe achievement and two Czech girls: Veronika ?i?ková and Lucie Jakešová.
Bodyfitness over 168 cm
Big changes between semifinal and final. Very good appearance of 2014 world junior overall champion Ellen Elizabeth Berg (Norway), who came to Prague following her 8th place at the European Women Championships and 11th place at Arnold Europe. She has been quickly climbing up in the ranking. Then Christine Schranz (Austria) and Natalia Vikhrova (Russia). But in the finals, Arnold Europe 4th place winner Noelia Segura (Spain) successfully attacked from 4th position, finishing 2 points ahead of Berg, then Vikhrova and Schranz.
WOMEN'S FITNESS
Women's Fitness up to 163 cm
Only 3 competitors on the stage and very tough battle of European Championships runner-up and Arnold Europe winner Anna Dudushkina (Russia) and 17-year-old junior champion Nikolett Szabo (Hungary). Szabo is fantastic in the routine round (she won this round in the superfinals also) but, due to the young age, can't win with much matured competitors in the physique assessment round, so both athletes were tied 15:15 in the finals score. This gave victory to Dudushkina as the physique assessment round is decisive in such situation. Third place to Lenka Cervená (Czech Republic).
Women's Fitness over 163 cm
This category was dominated by very young, former children fitness stars. 15 years old Vanessa Belova (Latvia) didn't win her last World Children Fitness Championships in June but has been doing much better in senior women's categories. After her 6th place at the European Games in Baku, Azerbaijan, she moved up to the 2nd position at Arnold Europe in Madrid and to the 1st place in Prague. And, like in case of Szabo, her most powerful weapon is the routine. But she is still improving her physique and lost only 1 point to the current World Women's Championships runner-up Oksana Orobets (Ukraine) in this round. In total score she was unbeatable. Orobets in the 2nd place and then a trio of other former top children, now juniors: Tatiana Kozuchova (Slovakia), Dorottya Ágoston (Hungary) and Oona Ylitolonen (Finland). We are eyewitnesses of the process when former children fitness champions, usually having around 5 years of training behind them, now replace older stars. And these new generation can perform much better and sophisticated routines than most of older stars. There is no better way to develop top-quality women's and men's fitness stars than to start to train them very early, in children's age. IFBB policy, begun around 5 year ago, to develop children fitness and organize world and continental children fitness championships was a perfect move. Now it starts to pay back!
MEN'S PHYSIQUE
Men's Physique up to 174 cm
As usual, all Men's Physique categories were very big, with elimination rounds needed. There was a very close battle among the top four competitors, who were changing places from round to round and, as usual in this division, a lot of surprising results. Juan Salomon (Spain) didn't qualify to the semifinals few days earlier at Arnold Europe but was a leader in Prague after the first round, ahead of the European champion Alexis Gonzales (Spain), new face from the Czech Republic, Sebastian Guncík and semifinalist of the latest European Championships Johannes Falke (Germany). In the finals the order was turned upside-down: Falke moved up to the top position, being tied with Gonzales 12:12 but kept the leadership. Salomon dropped to 3rd place and Guncik to 4th position. Falke has been present on the European stages since 2014, finishing 8th at the 2014 European Championships and 13th this year but also entered the finals of the 2014 Arnold Europe (5th place). Prague's victory is his best achievement till now.
Men's Physique up to 178 cm
In the finals many well-known competitors, successful at previous contests. Results of semifinals and finals were stable. Both rounds went to Spanish star Endika Montiel, who began to compete in the middle of the year, finishing 3rd at Olympia Spain and 5th at Arnold Europe. In Prague his main opponent was the current European junior and men champion, 21-year-old Jones Ahmad (Sweden). There was only one-point gap between them. Then Joaquim Camps (Switzerland) – 3rd place winner at Arnold Europe and Petter Orvik (Norway) – 9th place winner at Arnold Europe.
Men's Physique over 178 cm
As usual in Europe, the biggest category, with 39 athletes. In this crowd a couple of well-known competitors ended the rivalry in the elimination round. Among them Arnold Europe winner Mario Redondo (Spain), Michael Vogl (Germany), Miroslav Kadlec (Czech Republic) and Nassim Sahili (France). Andre Merzdorf (Germany) and Francesco Montouri (Italy) were silver and bronze medal winners at the recent European Championships. This time they were the top two but Montouri was the winner and later on he was also the best in overall. Christoph Friedl (Austria) was 3rd at Arnold Europe and copied this result in Prague. Ondrej Kmošták (Czech Republic) made the biggest progress, moving up from 10th place at Arnold Europe to 4th position in Prague. Ramses Rodriguez Fernandez (Spain) in the same 5th position as few days earlier in Madrid.